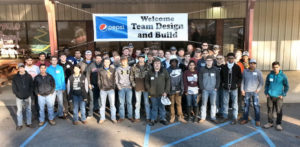 On October 31-November 1, 2019, ten teams from Alabama secondary school Career and Technical Education programs across the state will compete in the Team Build competitive event to be held in Tuscaloosa, Alabama. The contest is a two-day event involving teams of seven students (five carpentry students and two electrical students) who will compete to construct an 8' x 10' building. The purpose of the competition is to promote the home building industry as well as showcase the occupational skills of students enrolled in construction and electrical programs.
The competition is designed as a project-based activity allowing the students to utilize the skills they have already learned in their classes. During the competition students will experience teamwork, leadership, cooperation, collaboration, decision making and other skills the construction industry demand for their employees. These same skills also cross over to the commercial and industrial industry.
The Team Build contest is sponsored by the Resource Center for Technology in association with several construction firms and other businesses and industries around the state.